IELTS Speaking Part 2: topic card, Describe an enjoyable place you visited in the countryside; with mind-mapping, model answer and special tips
This IELTS Speaking part 2 post is based on a cue card which is an enjoyable place you visited in the countryside. This is quite a usual topic card and some candidates have come across this topic in their IELTS Speaking test. I've provides a simple yet strong answer for this topic card. You will also find the explanations of different vocabularies just below the sample answer to this cue card. Candidates may make necessary changes in the answer as per their need.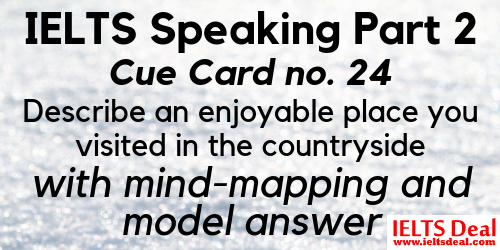 So, let's take a look at the cue card first.
Arranging ideas/ Mind-mapping/ Brainstorming:
Think about a place in a country-side or a village which you know as attractive to tourist and arrange some ideas around it. It doesn't matter if you have to add some points of your own. IELTS Speaking doesn't judge what you say; it rather judges how you say. So, if it makes sense, you can talk on whatever you want.
Let's have a look at the brainstorming that I have done and the mind-map I've arranged.
Here is a note-taking sample for you for your better understanding. You can take such short notes in 1 minute that you will be given before you start speaking for 2 minutes on the topic card.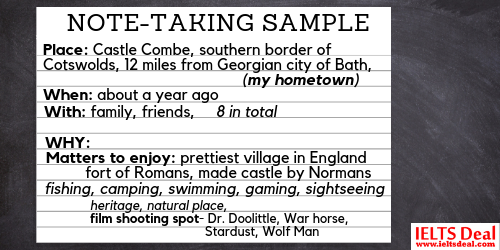 Does the arrangements, mind-map or the notes help me? Can I talk for around 2 minutes based on this preparation?
Let's have a look at the model answer now.
Model answer:
Thank you a lot for the topic card. I visited Castle Combe, 'The Prettiest Village in England' about a year ago. It is probably one of the few country-sides which I remember visiting due to several interesting reasons. This is a grand place to visit and enjoy the stroke of nature. The freshwater lakes and large grounds in the area present an extensive number of activities to travel around them.
The village is situated on the southern-most border of the Cotswolds and is approximately 12 miles from the Georgian city of Bath, where I live.  I went there with my family members and some friends. We were eight in number. In fact, it was a three-day trip to the village for holiday purposes. I was accompanied by my parents, siblings and friends. Everybody was in a joyful mood with the natural view of the village.
As you can understand from the name of the village, there is a great castle there named Castle Combe and the name of the village was derived from it. It was a fort once when occupied by the Romans. Later, the Normans occupied the place and transformed the fort into a beautiful castle. By the middle age, the area became a place of wool industry.
Presently the village is a famous shooting spot for movies. Movies like 'Doctor Doolittle, Stardust, War Horse, 'The Wolf Man' have been shot here. The village is also a sanctuary to wildlife as it is a conservation area and enjoys the beauty of nature at its very best.
The place was really enjoyable and mentally satisfying for its natural beauties. The main attractions are the camping facilities, the freshwater lakes, fishing on the lakes, swimming in the freshwater pools or even playing some outdoor games etc. Sometimes we need a day off from our normal day to day activities and this is an ideal spot to enjoy the leaves. The site is, in my opinion, a heritage of England and offers a wide number of natural resources for sight-seeing.
If I get an opportunity again, I will surely get back there in the future. In fact, I am taken with this natural place. This heavenly place has got my complete attention and the memories here preoccupy me every day. I shall always recall the guided tour through the intact splendor of the place.
Special tips:
If you don't have much practice on some topics, it may become difficult for you to talk on a topic for a given amount of time. So, the best advice here is: Prepare yourself; learn about as many topics as you can; practice speaking about the topics over and over again; learn how to use difficult vocabularies now and then.
If you like the post, please make comments. You can also ask any questions regarding speaking.