IELTS Speaking Part 2: Topic Card; a party you have attended; with quick tips and model answer
This post focuses on the IELTS Speaking Part 2. Here, the name of the cue card is A party you have attended. I've provided some quick tips to arrange the answer for this topic card which will help you immensely. I've also prepared a model answer based on the quick tips notes. Hopefully, you can prepare for this cue card easily.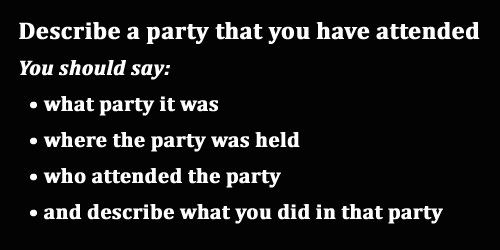 Quick Tips for answering this cue card topic:
Firstly, to answer this kind of topic card, you need to think about any event where parties are related. You can, for example, think about:
a birthday party
a wedding reception
a promotion celebration
a wedding anniversary
a great result celebration
Most important tip for you:
You should speak about a party which may be unusual to your examiner. Always remember that examiners take many interviews each day and they are familiar with how candidates talk. Therefore, any unusual answer will make them interested in you. So, try to avoid answers like a birthday party or wedding reception, as many candidates before you might have already talked about them.
In this case, you can talk about a party which is unexpected and different in general sense.
For this reason, I have given a sample answer on a promotion celebration.
Now, let's arrange the topic card. Then, we can look into the model answer.
Here I present you some of the important points or notes which you can choose to answer this cue card:
Think about every point in the cue card and arrange some ideas quickly.
1. Kind of the party: a promotion celebration
Let's think that you have been invited to a celebration arranged by one of your uncles who has recently got promotion in his job. He was delighted and thought of throwing a party for his friends and family.
The location of the party: your uncle's house
Let's say that it was a big house with a large garden area in beside the house. Think about some points like big space, excellent decoration, outdoor place, fresh air, natural touch.
People who attended: your uncle's colleagues, friends, relatives like you etc.
Let's say that your uncle invited your family, some of your other uncles' and aunts' families, his colleagues, and some of his senior people from the work.
Description of what you did: Suppose, you didn't just attend the party. You did a lot of fun with your cousins and, at the same time, maintained the reception. You received special guests and forwarded them to your uncle. You also helped your cousins in serving the food and drinks. You also took some photos and did some other stuff.
Did the notes help you?
Let's have a look at the model answer:
Thank you for giving me this topic card. I'm really delighted to have this card because just a couple of weeks ago I attended a different party which was thrown by one of my uncles. I'm going to talk about it now.
It was my uncle's promotion celebration. My uncle works for a multinational company which works in several countries around the world. Recently, my uncle has been promoted from Senior Account Officer to Executive Officer. My uncle was hopeful about it as he told me some months ago that he had a feeling of getting a promotion soon. I was delighted when he gave me the news and invited me personally. I have a very close bond with my uncles and I felt honored about the invitation.
On the party day, I dressed accordingly and went to uncles' house near my house. It was only a 10-minute drive from the block where I live. I took my mom, my sisters and my younger brother there with me. The party was arranged in the large garden beside my uncle's house. The garden area looked very beautiful for the decoration work. My uncle loves the green color very much and the place was decorated according to his tasteful choice. It also looked really natural. The environment of the evening was cool with a gentle breeze and it offered a natural view.
The people who attended the party were mostly familiar to me. Most of them were my close relatives like uncles' and aunties' families. I met some of my cousins whom I had met a long time ago. Many of them were of my age and we literally screamed when we met after such a long time. Nobody mind about it because my uncle was excited too. I also knew some of my uncle's colleagues and I met them too. I saw some delegates there too. They were the senior people from my uncle's workplace. They gave a smile at me and I nodded at them. It was a wonderful evening to meet some lovely faces.
I did some important works as well as some fun in the party. I took pictures and selfies with my uncles, aunties, their families. I also helped my uncle in serving food and drinks to the guests. I thought it was important to help my uncle at the party. My uncle also gave me an important work. It was to receive some important guests. I was good at reception. My uncle knew that and sent me to the front gate to receive the guests. I also took some guests to my uncle. I did this job very seriously and the guests were delighted at how I received them. Overall, I enjoyed at the party very much. I'll remember it for a long time.
Thank you.
This is the end of the answer.
If this post helps you in any way, please make sure you put down some comments in the comment box below.